Hiring a Professional Roofer
As homeowners, most of us tend to take really good care of our property. We see the value in making improvements, the appeal of upkeep, and the overall intelligence behind taking really good care of our Brooklyn homes. You can probably remember your college days in the dorms or your early years as a young renter; you certainly didn't make lasting and expensive improvements on your dorm room or apartment because you weren't an owner. Most of us wouldn't invest time, energy, and finances to something that doesn't belong to us; it just doesn't make the most sense. However, everything changes when you become a homeowner.
The homeowner's mentality is far different from that of a renter; someone who owns their home will put in the work, the thought, and the financial investment to make their homes better. Why? Simply because it makes the most financial sense. If you know that you're going to sell your home one day, you'll want to get money back, not only from the years and years of mortgage payments, but also from your own home updates. So, we can all agree that it's smart to make improvements to your Brooklyn home—now the question is: where do we start?

Many people who want to improve the overall value of their homes opt to start with the things that are in the most need of repairs. For some houses, that might be a new HVAC system, other homes require new flooring, and yet, more homes are in desperate need of a new roof. Here in Brooklyn, we deal with a lot of extreme weather, and our roofs definitely show that. As we'll discuss further down this page, moisture from snow and water is one of the leading causes of roof damage. Knowing that our roofs are being put through the ringer, it's vital for us to have access to a great Brooklyn roofing expert. Letting issues in your roof exist is incredibly risky and can lead to further damage, so when you start to see possible leaks or signs of wear, give our professional roofing team a call. There are all kinds of reasons to hire a professional roofer, and in this three-part blog series, we'll look at the reasons to hire a professional roofer and the materials that roofer might use. Let's discuss a few!
Reasons To Hire a Professional Roofer

Looking at your own roof, it can be really tricky to know whether your roofing needs are extensive enough to warrant a new roof. It's nearly impossible to know exactly what needs to happen with your roof if you're not a professional roofer. Imagine how frustrated you would be to find out that you had your whole roof replaced when it only needed several repairs. When you've hired a pro roofer who you can trust, you'll be able to have peace of mind knowing that you're not going to be taken advantage of. Your roof is in good hands when you hire a roofing company that strives for excellence in their work, maintains a great and upstanding reputation, and always makes your satisfaction their number one concern.

When you and your buddies decide to get together and have a reroofing party, the shingles that you've picked up at Home Depot simply don't compare to the products that your professional roofing team is using. Not only will you be sacrificing the work quality and durability by doing it yourself, you're also taking quite a risk by using inferior materials with which to install your new roof. Don't be surprised if you start to notice leaks and missing or cracked shingles within the first year of having your DIY roof.
Whether you're here in Brooklyn or you're one of our neighbors, knowing that your roof is in the hands of professionals can give you amazing peace of mind. Having your roof repaired or redone is a huge deal and shouldn't just be completed by anyone. You definitely wouldn't give such an important job to an amateur; roofing is best left to professionals. In part two of our blog series, we'll look at the low cost-effectiveness, the guarantee of satisfaction, and the insurance that comes along with a licensed professional roofing contractor.

You've heard the saying that time is money. Well, when it comes to hiring a professional roofer instead of trying to slowly get the work done yourself, you are definitely saving yourself tons of time. Your roofers are experts in what they do. Not only have they received years of professional training, but they install and repair roofs for a living. When you do something day in and day out, you become extremely efficient. Performing your own roof installation can be so time-consuming that it takes multiple days. Imagine having to tarp your entire roof for three nights in a row because you weren't able to finish in one day. When you leave the roofing to the roofers, you won't have to worry about damage to your home because they are skilled, knowledgeable, and fast.

Injuries from falling are the second leading cause for household accidents in the United States. People who attempt their own roofing projects often find that they don't have the proper safety procedures, equipment, and knowledge to ensure their personal safety, and the safety of those around them. Your Brooklyn roofing pros not only know what to do in order to stay safe, they bring the right harnesses, hook-ups, and knowledge to ensure that there are no accidents while your roof is being installed. Make sure that you don't put your safety and well-being at risk; leave all of the roof work to the professionals.

Many people who have never hired a professional roofer here in Brooklyn, assume that hiring roofing experts is way out of their budget. However, hiring professional roofers doesn't have to break the bank. Most people who attempt their own roofing project pay more for roofing materials than a professional because amateurs don't have access to the discounts on quality materials that roofers have. Additionally, by the time you add all the cost of materials and equipment with whatever you use to compensate your team of helpers, you'll have spent a pretty penny. It might be more cost-effective for you to hire out for your roofing job.

When you attempt your own roofing project, or you hire your crazy cousin and his buddies for cheap to do the work, you aren't left with any guarantees. If you don't like the quality, see a mistake, or aren't happy with the process, you're probably just out of luck. At this point, you'll probably need to hire professional roofers just to try and fix the mistakes made by amateurs. This will end up costing you more, will be frustrating and possibly leave you with a slew of regrets. Obviously, your experience with your Brooklyn professional roofing service will be far different from that. Professional roofers place your satisfaction at the forefront of what they do; they pride themselves on excellent customer service, quality work, and complete customer satisfaction. In the unlikely event that you are disappointed with a job done by a roofing pro, our team will work hard to fix the problem and leave you completely happy with your new roof.

There are lots of reasons to hire a pro roofers, but this might be one of the most significant. Many people don't realize that when they hire a roofing team of experts, they are hiring service professionals who are licensed to do what they do, and are fully insured. A licensed roofing contractor has certifications, qualifications, and expectations for each employee on the payroll. With this license, not only is their work guaranteed, but you can trust that their standards are nothing short of excellent. Additionally, when a roofing company is insured, in the unlikely event of an accident, you can know that you and your own homeowners insurance won't be affected in the slightest. Professional roofers are just a safer route to go if you're needing roofing done.

Consider this final reason a compilation of the reasons that we've already mentioned. Hiring a team of roofing professionals who have been in business for over 40 years will definitely be a stress-free experience for you. You can know and trust that this well-established company with stellar reviews, excellent customer service, and a great reputation will do an outstanding and efficient job on your new roof. Why risk dealing with the stress and anxiety of hiring anyone less than the best? Instead of lying awake at night, wondering when your roof is going to start leaking, you can sleep soundly, fully trusting the job that was done by qualified and licensed professionals.
What Kind of Materials Will My Pro Roofing Team Use
There are all kinds of materials that roofers use when they're performing installations here in Brooklyn. Of course, because we are exposed to plenty of snow, rain, and wind, the weather always plays a part in a region's most common roofing materials. The average roof in New Mexico and Hawaii differs greatly from what our roofs need to be installed here in New York. We have different weather, therefore, we have different needs. That being said, let's take a look at some of the most common roofing materials that are used here.
Asphalt Shingles
In the United States and more specifically, here in Brooklyn, one of the most common kinds of materials used on our roofs are asphalt shingles. Asphalt shingles are fairly inexpensive, reasonably durable, and long-lasting; the average shingles made of asphalt last anywhere from 20 to 40 years and are extremely simple to repair. In addition to all of these perks, asphalt shingles are available in a variety of colors and are perfect for almost any degree of pitch, so your house can be just as distinctive as you and your family are.
Wood Shakes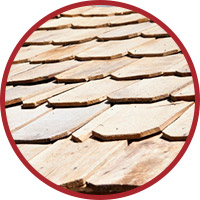 Though using this roofing material can be a little bit more tricky to install and are slightly more expensive, wood shakes can create a gorgeous look on your home. Though this particular kind of roof covering is much more difficult to maintain and repair, it can be implemented in a number of different roof types and pitches. Wood shakes are usually made of cedar to avoid any rotting that might have occurred with another type of wood. Wooden shakes may be slightly more high-maintenance than other types of roofing materials, they are fairly long-lasting and will give your home a unique look.
Metal Roofing
Roofs that are made of metal slats are much more expensive than those made with asphalt shingles, however, they are much more durable in extreme weather conditions, are more resilient to fire and wind, and are incredibly long-lasting. To install a metal roof, a number of different kinds of metal can be used including steel, copper, aluminum, and zinc. Metal roofing can be installed using slats or shingles and will work for roofs that are steep or low pitched. Metal roofs might be more expensive than most other types, but it's probably going to be more cost-effective for your Brooklyn home.
Concrete or Clay Tiles
If you're wanting to give your home a nice Spanish or Italian style, this might be the perfect roof for you. Concrete or clay tiles are not especially common in our area, however, we do see them on occasion. Despite clay being extremely fragile when dropped, these tiles, once installed on your roof, can be extremely durable, long-lasting, and pleasing to the eye. These tiles are beautiful but can be fragile in certain weather conditions and are more expensive than other roofing materials. Make sure that if you're considering concrete or clay, you discuss your reasoning with your roofing expert and make sure to listen to his logic and opinions.
Though these are only a few of the many options available to you, you'll have to choose the best roofing material for your home based on your budget, location, weather, and patience for repairs. If you have questions, ask your Brooklyn roofing contractor to learn about more pros and cons of each roofing material.
There are so many reasons why hiring professional roofers just makes sense. Here in Brooklyn, there are plenty of roofing companies that will try to convince you that they'll do an adequate job, but if they're not licensed, insured, reputable, and if they don't have 40 years of roofing success stories, you probably shouldn't waste your time on them. Installation Service & Repair is going to be your best option when it comes to roof repair and roof replacement. Give us a call or visit our website to learn more!